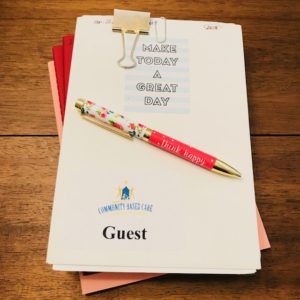 Anyone who know me knows that I love efficiency, time-saving tricks, and (of course) results. As a new mom, I feel like the above 3 have become monumentally important, so I thought I'd share what I've discovered.
Below are 4 very simple, but (I believe) essential must-have items that every new work-at-home mom should have.
Cute 'mom' coffee mug– This one's mostly for fun, but I find that my 'Blessed' coffee mug (a gift from a friend when I had my baby) puts me in the right 'balanced' frame of mind when I start my morning. Drinking from it is a reminder to take a moment, think about my little one, and also gives me my caffeine fix to work hard at my laptop for the day.
All-purpose planner– I'm old school (and I think a lot of other college instructors are, too!), so I have an actual paper planner, and it's kind of like one huge syllabus with assignment deadlines for my various schools for the entire semester (it's the only way I keep it all straight!), but I also record baby milestones in it (although I have a separate baby calendar, as well), and pencil in dates with friends.
Nursing shirts for every occasion (seriously)- I found some great nursing tops on Amazon that are super cheap, look great, come in 6 colors (I have all 6), and can be dressed up or down, and even worn to work events with a blazer (the colors and fit are perfect for the classroom or meetings). I sleep in them, wear them to workout, meet up with friends (with a scarf, cardigan, and/or necklace to add some variety), when I'm working from home (with a cozy sweater and leggings), and even during webinars with students (throw on a cardigan or blazer and earrings and you're ready to go!). The versatility and not having to think about what I'm wearing each day has been exactly what this time-crunched, sleep-deprived work at home mom needs.
Freemie pump parts– Whether you're working from home, in the classroom, or both, this purchase (discrete cups you can put in any shirt- I prefer to also wear a fluffy, light scarf if I'm using them in the car!) will save you time, effort, and make you feel productive during your commute to campus. They're also great to use while working at your laptop so you don't have to take a 20 minute break when you're on a roll grading papers.
The 4 items above may not seem like much, but here's the way I look at it: the mug is my 'get-up-and-go' each morning, the planner and shirts are my tired brain's best friend when it's hard to know where to begin (whether at work or when getting dressed), and the pump parts may offer some freedom and can keep me from wasting unnecessary time during the day.
These are the things that keep everything moving forward and functioning the way they need to in my life right now, and that is worth everything!
Happy living, momming, and working!