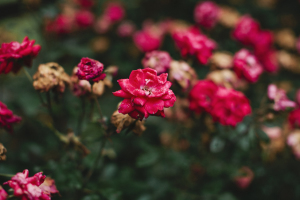 I love this job, and it makes me happy beyond words to get this confirmed on an almost daily basis. Here are some of those moments from last week:
I saw a chick flick with a girlfriend at the movie theater. I'm not one to cry about love stories, but there were a few meaningful teacher-student references throughout the movie where I nearly lost it. I thought, "Yep. I'm a lifer."
One of my students had been in and out of the hospital all semester, but was able to be released to come to class on her birthday. Some of her friends brought flowers and cupcakes and had the class sing "Happy Birthday" to her. There are no words. (*Update: This same student gave me a journal on the last day of class with a sweet note inside. I can't even handle it.)
One of my best student speakers is applying to speak at TEDxMiami this summer, so she asked for my help preparing her talk in the upcoming months. I'm beyond excited. When you consider how much I love TED talks, my students, and truly impacting their lives so they'll continue challenging themselves beyond the classroom, this is just everything I've ever yearned for as a teacher.
One of the women who introduced me to the world of college teaching had a luncheon for her retirement the other day. I was surrounded by kind, amazing people that I don't spend nearly enough time with. These are the people who love their jobs, sacrifice time and energy to help their students outside the classroom, and take academia seriously. Gotta love the world of teaching.
I don't think I can truly convey how each of those experiences made me feel. Is it lame to say those small moments feel a little bit like Christmas morning each and every time?
I urge you to make meaningful moments happen in your life on a daily basis, even if they require a little extra time and energy.
You know it's worth it.
Happy living and happy teaching.