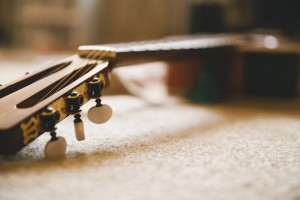 Since I started phasing out energy drinks over a year ago, and then gradually eliminated my daily coffee fix, I've been trying to find a way to keep my productivity up. As someone who works from home on a computer every day and relies on self-motivation, this has not been easy without caffeine.
You see, I've always timed myself when grading papers online (if I keep a pace, I'm able to get into a rhythm that helps me set realistic deadlines for myself). I noticed that after I gave up caffeine, it was taking me two to three times as long to get through assignments, due to my focus not being quite as sharp as it had been with the use of these socially accepted stimulants.
The decrease in efficiency was pretty devastating.
I tried 3-5 minutes of daily meditation for about a month, and while some claim that meditating is the 'new caffeine,' it didn't increase my productivity as much as I needed it to. Maybe I wasn't doing it for long enough each day, or maybe I needed to become more skilled at it for it to work better as a long-term solution
Whatever it was, meditation was not my 'new caffeine,' although it did wonders for other areas of my life.
Here's what has worked for me:
I've been going to the public library quite often to work, and my magic cure for productivity has been classical music and especially jazz music. I listen to upbeat Mozart when I want to feel like I'm at Panera (other classical musicians sound too sad or soothing to me, at least the ones you can listen to on YouTube for hours on end).
As for jazz music (which I'm officially addicted to), it needs to be something I can't stop tapping my foot to (sorry, fellow library patrons). I listen to this stuff for hours on end, and it's amazing (these are my two favorites at the moment: Instrumental Jazz Mix and Background Cafe Music).
I got my caffeine-induced rhythm back, and I didn't even need the caffeine.
It might not seem that amazing, but finding that music could be a solution has been an incredible relief. I didn't want to go back to my coffee-drinking ways; I wanted to know that I could handle the work in my natural state.
Not only does this type of uptempo music give me the same boost as a cup of coffee, but it improves my attitude, puts a smile on my face, and leaves me in a fantastic mood after hours of grading hundreds of papers and handling countless student issues via email (which, I think we can all admit, shouldn't be the case). Essentially, it's a miracle drug.
So for those of you who feel you're losing your motivation, getting burned out, and/or trying to kick the caffeine habit, give music a try. I can't promise that my cure will work for you, but keep experimenting, and let me know when you've found your own stimulant-free solution (Erin@HappyProfessor.com).
Happy teaching, learning, and living.