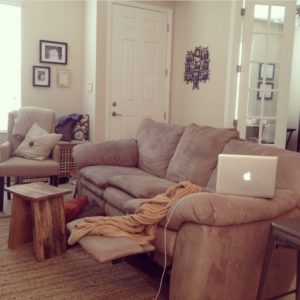 The nice thing about working from home as an online instructor is that you can create a flexible schedule for yourself and have some much-appreciated freedom. 
The downside when teaching online is that you have to use and purchase your own resources: laptops, printer, ink, paper, etc. 
Since I've started teaching primary online in the past 2 years (about 20 hours a week), I've started realizing I need to be more deliberate about the products and brands I'm committing to (for the sake of efficiency, reliability, and my bank account). 
For those of you working from home, these are the products I use and absolutely love:
HP printer– We pay about $5 a month and ink is automatically sent to us when needed. It does everything a printer in a corporate office would do, and it's been incredible for the last 2 years.
Asus laptop- I could just use our desktop, but I've always gravitated toward laptops (so I can work from wherever I'd like). My husband (a PC guy- I'd been team Mac for a decade, but needed to get something that made more sense for working from home), helped pick out this laptop when it was on major sale around the holidays. It doesn't have any impressive or particularly artistic features, but it's worked wonderfully for about a year now, and only cost $500. I expect to need a replacement after 2 years of use (not due to the computer's quality, but because that seems to be how long it takes for me to wear out my work products), but at only about $500, I'm okay with that. 
iPhone– Some people have a smart phone that's provided to them by their work. I use mine primarily for work (not so much for fun), but the cost is on me. My last iPhone seemed to be on the verge of death for about a year (didn't hold a charge, some much-needed apps stopped working, etc.) until I sucked it up and paid for the iPhone 7. It's so much better, and I really shouldn't have waited so long. I can check emails faster, sign and send documents on my phone, and I don't have to worry about it dying constantly. Bottom line, get yourself the best smart phone available that will make your work life easier. 
—
For those of you that are currently shopping around for the best laptop for working from home, I went ahead and included a group conversation I had with some of my other college instructor friends, all of whom work from home in some way (website, small company, and/or teach online in some capacity) and rely on a personal laptop. They all had different opinions about which brand would be the best choice, but their input was invaluable to me. 
For those of you that don't have a group like this to help you weigh in on decisions, feel free to borrow their advice from the following conversation!
~
(Our conversation from December 2017)
Erin:
Hey guys! I have a question. My MacBook officially died last night, so I wanted to know if any of you had some amazing laptop or brand you've been using for a while that you think I should consider looking into (I'll be going to Best Buy tonight). I want to get a PC this time, something between $400 and $600, that's just a standard laptop that won't let you down- definitely doesn't have to be touchscreen or anything. Any suggestions are welcome!
D:
I did the same thing a couple years ago. I bought a Dell that was highly rated (I needed it for some meeting platform that wasn't supported by Apple). It lasted less than a year, and blew up in a way that couldn't even be repaired. I had always been Mac loyal, but after that, I've never messed with PCs again. My Mac's typically last 7 years. 
K:
My HP has been pretty good and I've have it for 3 years now.
N:
Had a Dell die in less than a year, too, never again! After that I bought my Lenovo for under $300 on Amazon and it's great- not super fast but it's touchscreen and gets the job done. I also have had 2 Acer laptops last over 10 years each.
Erin:
Thanks for the suggestions! Acer might be a good idea, I saw some good reviews for that brand last night. 
And about the Lenovo, Adam has a 1 year old Lenovo that I like, but it's got this glitch where it won't stay turned off if you unplug it. Ugh. I've seen a lot of complaints about that online.  Otherwise it would be perfect!
N:
Wow, mine has been great for 2 yrs- just kind of slow. But unfortunately they make more money when the laptops die faster
Erin:
Yeah, I'm also wondering if it's because I use it like 25-30 hours a week lol
D:
You wore it out!!
Erin:
Probably haha. I figure it might be time to just buy a reasonable and reliable laptop that I can replace every 2 years. 
S:
They just came out with a new MacBook Pro, so the previous version might be cheaper at Best Buy now
Erin:
Good to know! And D, I was Mac loyal, too, because they always lasted 7 years for me, but my recent one didn't even make it a full 4 years- I was shocked, so I'm kind of annoyed that I overpaid for it.
Yeah, Natalie, yours might be a different model or something. Maybe I'll just look at different versions of the Lenovo- those had good reviews too. 
You guys are awesome! Thanks again! Adam and I will be looking back through these texts as we shop and discuss tonight lol.