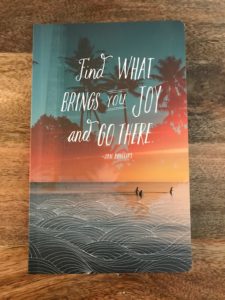 It's easy to slip into routines. Even things that originally seemed novel can become a normal (and not especially exciting) part of your day to day life.
For the last year I've worked toward creating a life that allows me to basically function on autopilot. It was very deliberate- I wanted to get all my 'ducks in a row,' so to speak, live in the right location, make the right amount of money, and become comfortable with the new schools I've been working for online (mostly to prepare for the wonderful and exhausting chaos that will come with having a child).
However, with routine and the luxury to relax and get comfortable also comes a lack of imagination and creativity (at least, that's been my experience).
I like to think that I'm a self aware and proactive person, so when I started realizing that my conversations with friends were growing stagnant and less intellectual, and long talks with my husband were gradually moving from energetic and inspiring, to a bland rundown of our work day, I decided to come up with as satisfying (and easy) a solution as I could. I decided that if I could be more deliberate about how I'm spending my time in the car, putting away groceries, and procrastinating on my laptop, I could work in some much-needed 'educational listening.'
That's when I got a simple idea that I've already fallen in love with:
Listen to 2-3 TED talks or one educational podcast weekly, and write down 3 conversation-generating thoughts from each in a notebook (which I call my Book of Big Ideas, because I'm cheesy :)).
This purposeful listening and note-taking has worked out perfectly (and keep in mind, it has required virtually no extra time out of my day), and it's provided me with plenty of new thoughts to explore on frequent one-hour-long walks with my husband (naturally one simple idea spirals into multiple ideas that can keep us talking for hours, which is a huge win in my opinion).
Following through on this simple idea has also inspired me to think outside the box more often, it feels good to have some added mental stimulation, and it's kept me from falling into that all-too-familiar 'sit on the couch and watch TV/Netflix/YouTube endlessly after work until you go to bed' rut that I know can become so easy to fall into.
My Book of Big Ideas plan is fairly new, but so far so good. Having been out of school for 6 years, and having finished writing my most recent book two years ago now, I figured it's important to keep my creativity alive and to continually challenge myself mentally.
Some people enroll in free online college courses, or do crossword puzzles to stay sharp, but for anyone who's looking for a different solution to help them break out of that weekday TV rut (and tired of feeling like they've lost a few IQ points), I recommend starting your own Book of Big Ideas and see what kind of inspiration strikes.
Happy learning and happy living!