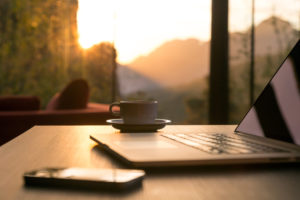 If you teach college courses online, I can guarantee that the following piece (by online instructor and occasional Happy Professor contributor, Chris Berg, Ph.D.) will have you vigorously nodding your head with every word.
Do yourself a favor and send the following article to your students as a Canvas or Blackboard Announcement, or even take it a step further and give your students a quiz based on the content; I plan to do the same in each of my classes.
I imagine Chris's wise words will give my students some clarity, and provide me with some peace of mind as we progress through each semester.
8 Tips to be a Successful Online Student 
By Chris Berg, Ph.D.
Online learning is fast becoming the way twenty-first-century learners choose to attend college. It provides a degree of flexibility and versatility unseen in traditional education.
But, apart from the many benefits online learning provides, there are certain attitudes and attributes that are essential for success in online education. The best online students understand their value and, in this article, I'm going to share what I've found to be important considerations for your success in online education.
Read the Syllabus. Seriously, read it. In my experience, if I didn't require a syllabus quiz in my online courses, most students wouldn't read it. The syllabus is your key to success in any given course. It is in your best interest to read (often, in fact!) the syllabus to fully understand what your professor's expectations are for the course and what you can, in turn, expect from your professor.  
Time Management. This one is a challenge for students and is, perhaps, the #1 obstacle to timely submission of assignments and engagement in discussion boards. Some of my students have shared that they make a schedule for the entire semester in advance so they know what needs to be done day-by-day, week-by-week. This requires some initial time investment, but the rewards are worth it. Don't wait until the last minute before beginning your work. Professors can tell when an assignment was rushed.
Read for Comprehension. Textbooks, for all their faults, are probably here to stay in one form or another. This makes reading time-consuming, but part and parcel of the learning process. This might require reading through a section or an entire chapter more than once. I know that's not what you want to hear, but reading carefully and thoughtfully requires commitment.
A rule I followed in graduate school when the reading lists were especially heavy was to read for 30 minutes and then take a break for 30 minutes doing something completely different. This system worked well for me; find a system or routine that works for you.
Check-in. Make it a regular practice to check-in the course classroom frequently throughout the week. This is not only a good practice to break-up work, such as submitting an initial post and follow-up peer responses, but is also useful to view important announcements or messages from the professor.
Be Proactive. Take responsibility for your education. This is college-level work and a higher standard is required. Just because a class doesn't require that you attend in person does not mean that you can cut corners. You are in control of your own learning. Remember that and you'll take control of your education.
Communicate. The moment you have a question, check the syllabus first. If the syllabus doesn't address it, contact your professor. Don't delay! Often, a slight problem can turn into a big problem if too much time elapses. If you're unsure, email the professor. We're here to help.
Stay Involved. Discussion forums are ideal, but underutilized, areas for students to engage and interact with each other. Often, you'll be confronted with a new perspective that challenges your own beliefs. Rather than ignoring the post or comment, start a friendly conversation with your peer. This is a crucial aspect of learning and will serve you well in the "real" world. Take advantage of it.
Go the Extra Mile. I learned this from Napoleon Hill, a protégé of the industrialist and steel magnate Andrew Carnegie. What this means is satisfying your professor's expectations while striving to exceed them. This attitude is not only beneficial in online education—your professors will notice it—but also in every walk of life. Going "above and beyond" might even by the secret ingredient to success in general. Try it.
John Dewey, the architect of progressive education in the early nineteenth century, famously said, "Education is not preparation for life; education is life itself." I hope you you find these tools–I post them in my own online classrooms–helpful as you move one step closer to achieving your educational goals.
~
I hope you enjoyed the piece, and again, feel free to pass this on to your students and other online instructors.
Happy teaching!