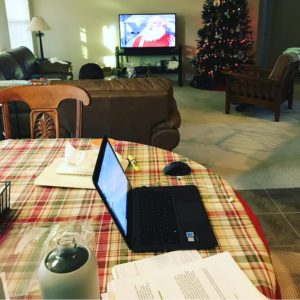 As college instructors know, winter break typically runs for mid-December to early or mid-January, which means we basically get a month off from teaching, which sounds amazing!
However, when teaching online you also have a lot of work to take care of during your 'break,' unless you plan accordingly (which is where this blog post comes in).
If you play your cards right and plan ahead, you can actually get that full 21-28 day break from work (which really is incredible), here's how: 
If the schools you're working for allow you to set your own date for your final exam during the usual weeklong final exam week, set it for the very first day! Then you're able to submit your final grades a few days earlier, and take your break earlier.

For each school, you'll have a long list of items to take care of when setting up your Spring classes (it may include updating your syllabus, schedule, assignments deadlines, and many other items within your Canvas or Blackboard course)- don't wait to do this over your break! I always set up my course within 48 hours of getting my new class schedule (which typically happens halfway through the Fall semester). Not only does this mean I don't have to worry about it over my break, but I have plenty of time to contact my supervisors about any issues- and they tend to be impressed that you're so on top of things!

Anticipate any student issues or questions that will come up right before or during the first week of Spring classes (if you've been doing this for long enough, you know what they'll be), and have automatic, detailed announcements already set up to be sent out on the first or second day of classes. This way, when students come to you with questions about said issue, you can simply say 'That's a great question! Go ahead and read the course announcement that was sent out earlier this week, and after reading through it, let me know if you have any additional questions!' I promise it'll make your life so much easier, and keep your time spent checking emails to just a few minutes a day toward the end of your break.
Of course (as you saw in #3 above), you may have to respond to the occasional email during your time off, and then during that first slow week of the Spring term, but if you've planned ahead, you can set yourself up for a really nice chunk of time away from your laptop and away from worrying about what fires you'll need to put out next.
I hope this helps some of you as you're wrapping up this term (and if it's too late, remember the tips for next year!).
Enjoy your time off, and happy holidays!