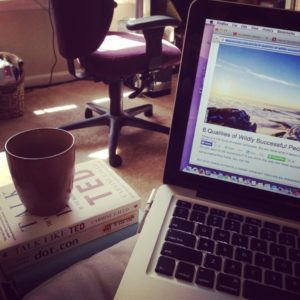 I often write about my experiences teaching online college courses, and share tips that I feel would help other online instructors. However, online teaching looks different for everyone.
I have a friend who works from home leading webinars as her full-time job, another friend who tutors elementary age children from China on the weekends, a friend who used to work from home teaching for Florida Virtual School, and one colleague who not only teaches college classes online but now teaches other instructors how to leverage their skills to write ebooks and apply their talents elsewhere.
Teaching online is incredibly popular these days, and there are so many different ways to do it. If you're interested in something like this, it doesn't necessarily have to be anything like my own college teaching experience online.
The other day this article appeared in my inbox (from one of the higher education groups I belong to on LinkedIn), and it reminded me of variety of online teaching opportunities available these days.
If you're looking for a little motivation, the content in the link below might be just the push you need to get headed in the right direction:
How Online Teaching Opens Up An Alternative Revenue For You
For more tips on how to get into teaching online in the college classroom, specifically, I highly recommend checking out The Babb Group , their Facebook page, and the services they offer.
I wouldn't recommend purchasing anything from the above links (unless you're absolutely certain it's something you want to invest your money in!), but I do suggest taking a look around, getting some ideas, and maybe consider buying Dani Babb's book, Make Money Teaching Online– it was one of the first books I bought when I started teaching online, and it was incredibly insightful.
Happy teaching and learning!