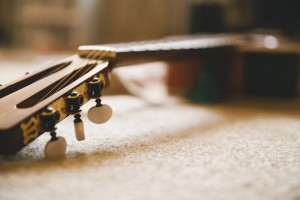 Every person has had something happen in their life that changed them forever.
I've had a few life changing moments at this point, but the very first one, the one that I believe set all the others into motion, was going to college.
A degree isn't for everyone, but for someone like me, the classes, experiences, and personal growth that took place during those 4 years turned me into the person I needed to become, and a day doesn't go by that I don't think about it.
I went to Stetson University, a small private college in Florida, that took me just far enough away from home (3 hours) and just enough outside of my comfort zone, that I not only survived, but I thrived.
The girl who wouldn't play her guitar in front of anyone or raise her hand in class, made it a point to sing in a few school talent contests (even if she secretly considered running away before they called her name up to the stage), and perhaps more importantly, decided to get to know her professors.
My professors were the people I looked up to, who suggested I get my Masters degree (which allows me to do the job I love today), who showed me what great teaching and learning looks like, and what loving your job looks like.
The thing that may have mattered most was that I had left home with a goal in mind. I went to college with one idea that I focused on every day for the next 4 years:
"If anyone asks you to do something, and you're scared of it, but know it will ultimately be good for you- do it."
It led to first loves, great friends, putting myself in the spotlight, and realizing there was really nothing to have ever been afraid of in the first place.
I still live by that every day.
When Stetson University invited me to be part of the Leadership Stetson program for alumni this month, I squirmed, I put off my response, I hoped I would have a work conflict of some sort, but I was 100% available, uncertain, and I said "Yes."
As I've learned time and time again, it was the right decision and a fantastic experience.
~
I was interviewed today by a friend (who also went to Stetson) who will soon be releasing her second book. It focuses on people who have pursued and reached their dreams: mine being teaching and writing a book about it. She's interviewed people who have produced classic television shows, as well as successful actors and performers, and I'm honored to be included amongst these remarkable people.
None of these things would have happened if I hadn't start saying "Yes" to the scary things, if I hadn't had the courage to get to know my role models and professors, and if I hadn't gone to Stetson.
It's a place that will always feel like home, that will remind me of the chances I took, of the ways I grew, and of the learning and living environment that sheltered me just enough to let me start playing with my dreams.
Let things happen, go on adventures, and let yourself grow in ways you didn't think possible.
Happy learning, and happy teaching.
If you'd like to learn more about simple living or how to be a happy teacher, check out the book, Happy Professor, on Amazon.com.
Courses: http://www.happyprofessor.com/?page_id=34
Facebook: https://www.facebook.com/pages/Happy-Professor/710847589006958
Instagram: http://instagram.com/happyprofessor/
YouTube: https://www.youtube.com/channel/UCPRF9bYsuWs0NXCUe2kz6pQ