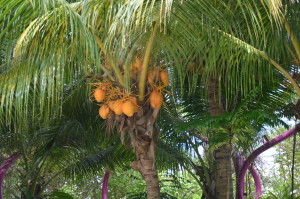 I don't travel as much as I should, since I prefer to save money, don't typically have the time to plan trips, and tend to enjoy the comforts and convenience of my own town. However, when preparing for my 4-week-long summer trip, I found a few ways to budget, travel more comfortably, and even plan more efficiently.
Below are my top 3 tricks:
#1. Stay at someone else's home. I'm not necessarily talking about staying at a friend's house, since that may not always be an option, or you may prefer to have your own space (though I do recommend it as a great way to save money and spend quality time with people you care about). However, for a more convenient and less intrusive option, you can also book private rooms or entire apartments/homes through Airbnb or VRBO; they're typically less expensive than staying in a traditional hotel, you get more room to spread out, and you feel a little bit like a local, which is part of the fun.
#2. Buy some snacks at a grocery store when you get to your destination. One of the downsides of travel is that you don't always have food handy when you're hungry, and for a snacker like me, that can lead to blowing your budget (recently, I bought a tiny $6 bag of trail mix and a $4 bottle of water out of desperation at the airport- not my favorite moment). However, once you arrive at your destination, get some basic food items from a local grocery store. For me, this includes a huge case of water bottles, dark chocolate, peanut butter, crackers, trail mix, and Cheetos (not all healthy items, but they all hit the spot for me and don't need to be refrigerated or microwaved if you don't have that option available).
#3. Use Groupon to book your trip. There may be cheaper ways to travel than buying a package vacation deal through Groupon, but as I get older, I realize some of my previous budget-friendly choices may not have been the safest. Not only is Groupon affordable and safe, but it'll save you the headache of having to plan every detail of your trip (depending on what type of package you buy). For my recent trip, I chose a package that included the flight, all hotels (with wifi and breakfast included- huge plus), transportation, an English-speaking tour guide, and daily activities and events already planned. While it was pretty simple to manage the parts of my trip taking place within the US, for the 12-day chunk that will take place outside the country, Groupon was absolutely my go-to travel plan.
So there you have it. For those of you that think you don't have the money, patience, or time to book and plan your next vacation, consider changing your approach using my tricks.
Happy travels!