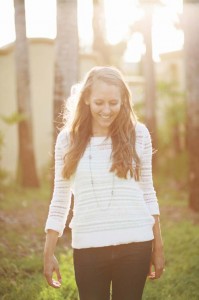 Erin Lovell Ebanks is the author of Happy Professor and The 3-Step Speech, as well as the adjunct professor behind the website happyprofessor.com where she writes about student success, classroom tips, and enjoying life. She teaches a number of online and face-to-face communication classes each semester, ranging from Intro to Oral Communication to Family Communication.
At 23, Erin taught her first college course while in grad school, and never looked back. Today, she's still finding new ways to connect with students and make life worthwhile, from spending quite some time in the classroom and most of her free time doing anything outdoors- even if that means grading online assignments outside the local coffee shop.
~
If you'd like to learn more about how to be a happy teacher or a confident speaker, check out Happy Professor and The 3-Step Speech on Amazon.com.

Connect:
Courses: http://www.happyprofessor.com/?page_id=34
Facebook: https://www.facebook.com/pages/Happy-Professor/710847589006958
Instagram: http://instagram.com/happyprofessor/
YouTube: https://www.youtube.com/channel/UCPRF9bYsuWs0NXCUe2kz6pQ