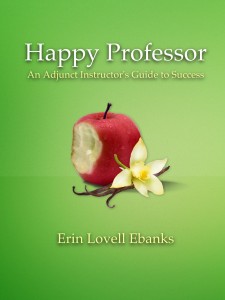 Happy Professor: An Adjunct Instructor's Guide to Personal, Financial, and Student Success is now available!
What started out as a 'just for fun' summer project, is now available in Amazon's Kindle store for $0.99 (or free if you borrow it through Kindle's Lending Library).
If you're looking to get into adjunct teaching, spruce up your own college course, or add a more positive perspective to life in general, you may want to take 2 short hours to read this book.
If you're interested in reading more about my own personal tips for happiness in life and in the college classroom, check in with new posts weekly at happyprofessor.com.
Happy teaching 🙂
Erin